---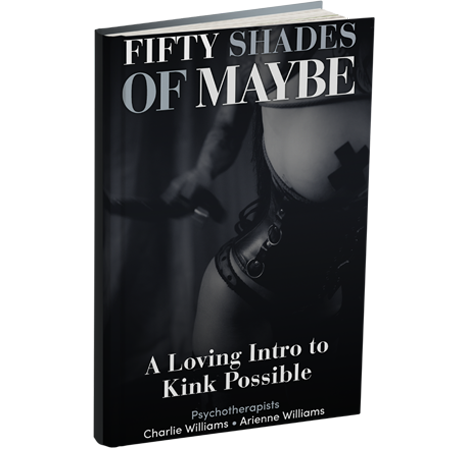 Comes with 50 Companion Videos
If you are new to BDSM it is likely that most of what you have heard about the lifestyle is wrong. If you've been in the lifestyle for years there is always more to learn, and you may have picked up some bad habits along the way. Fifty Shades of Maybe will help guide beginners and experts alike through the exciting world of BDSM and help everyone enjoy the benefits of their openness and intimate states.
50 questions. 50 videos. 50 answers. Fifty Shades of Maybe is a Loving introduction to Kink-Possible. It's impossible to deny the popularity of kink after the "Fifty Shades" series by E.L. James. Common household items transformed from their domestic purpose into something far more complicated and even, dare say, seductive. Relationships all over the world felt a seismic shift and the words "spank me" grabbed new meaning quickly and the quest for intensity descended into bedrooms from sea to shining sea. Unfortunately, that quest didn't come with a road map and beating your partner with a spoon from the cutlery drawer, though entertaining for one night, isn't exactly what the was being demonstrated on the Dover screen. Provoking many long term frolicking couples to say, "what the hell is all this about and how and why do I want to get started?"
Unlike a 90 minute experience in a theater, sex at home can be sexy but, at times, complicated when it comes to adding new things that are, well off that road map. Charlie and Arienne faced the same thing. Sex educators and psychotherapists, they enjoy a large amount of sex with each other, (this is ridiculously apparent from seeing their many instructional videos everywhere online). Once they were able to come up for air they realized their sex wasn't all that "normal" at times but plentiful to say the least. Growing up with conservative backgrounds (Charlie even went to seminary!!) kink and whipping your spouse wasn't exactly acceptable behavior to discuss at the dinner table.m, but neither was having sex on that same table or getting flogged while doing it. Yet it kept happening. "Fifty Shades of Maybe..." was created on that very table for couples who want to dip their toes (or toys) into the world of kink but aren't how much of it they truly want. With a large amount of dialogue, over Fifty Questions answered supported by Fifty Videos for further clarity,
"Fifty Shades of Maybe..." starts you our on a journey, or helps you continue one, that is bound to He as satisfying as their own. Now teaching workshops all over the world, therapists Charlie and Arienne have graduated to spanking benches and wall racks but still enjoy a good table every now and then. Specializing in trauma and PTSD for over 20 years, they have conscientious and knowledgeable approach to care and consent and show couples how to discuss, and possibly enjoy, everything from impact play to restraints and roles from Daddy/Schoolgirl to cuckolding and everything in between. "Fifty Shades of Maybe..." was created for the "Maybe" in you that may just grab that belt and throw it at the person spanking you when you've had enough! Helping you and your partner add your own level of kink in the bedroom. It's a journey and you'll see how intoxicating it can be to restrain from such behavior and be a good little girl or boy.
$34.99
---