PTSD and Sex Volume 1: Dysfunction eBook
$19.99
---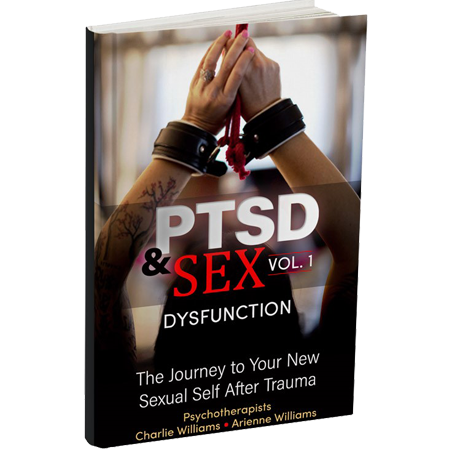 Comes With 12 Companion Videos
Have you or someone close to you endured a traumatic event? Did you notice any changes in sexual needs and level of desire after the event? Has this been confusing or frustrating to you and your your partner? The impact of trauma in a relationship often triggers a cascade of difficult and painful emotions in those who have been hurt and those who feel helpless in their attempts to intervene.
PTSD and Sex Volume 1: Dysfunction provides pages of easily digested information with 12 companion videos meant to offer even more clarification. Offering clear and concise definition to one of the most troubling barriers to sexual connection. PTSD & Sex- Volume 1 offers an opportunity for healing and a sense of understanding for couples who are struggling through or developing a new sense of sexual intimacy after trauma, regardless of desires or relationship design. It does not shy away from the importance of great sex in your relationship or the symptoms of PTSD and its impact on the intimacy your bedroom.
Answers to common questions "why am I different sexually than expected to be?" "How did this event change me/us?" "What can we do together now?"
PTSD and Sex- Dysfunction Volume 1 begins the discussion while emphasizing the important balance between healing and relationship/sexual satisfaction.
Start the journey with Charlie and Arienne Williams to your new sexual self today.
$19.99
---